Shopping Cart
Your Cart is Empty
There was an error with PayPal
Click here to try again
Thank you for your business!
You should be receiving an order confirmation from Paypal shortly.
Exit Shopping Cart
21531 Downing St. Clair Shores, MI 48080
    Long and very consistently cold this year in Metro Detroit has drove many animals such as squirrels and raccoon's in residential attics.  For them, staying alive is the key.  They can however be very destructive forces of nature. Tearing up insulation, damaging roofs, and vents leads to very expensive repairs.  Live trap and relocate them to their natural habitat.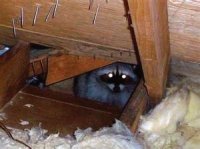 As you are doing your fall clean ups, keep in mind rodent season is right around the corner.  Take some time to look for entry points around the water hose, air conditioner line, or small gaps that rodents would enter when it starts to get cold.  Look for larger bushes and trees that over hang the roof which would allow live animals like squirrels and raccoons to access your attic.
When building a structure or a deck off the house, enclose the open area with metal screening to keep the raccoons, opossum, and skunks from living underneath.
/