Shopping Cart
Your Cart is Empty
There was an error with PayPal
Click here to try again
Thank you for your business!
You should be receiving an order confirmation from Paypal shortly.
Exit Shopping Cart
21531 Downing St. Clair Shores, MI 48080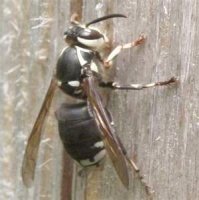 Bald-faced hornets are not your average "bee".  They are very aggressive and will sting you quickly and often.   Average homeowners try to remove these nests and end up in pain.  If you are allergic to stings.. stay away and call a professional.   They look fairly calm when left alone.  Usually found hanging on a tree branch or fixed in a peak or overhang.  When they get agitated they are mean and nasty!
  With the summer heat finally here, wasp and bee season will be picking up.  Keep a cautious eye when trimming bushes or doing yard work.  If you get close to the nest and aggravate them, you will end up getting stung.
  Start looking for the small little bee nests in the corners of the windows and up in the peaks and eaves.  Find them as you do your yard work now before they have a chance to build a bigger hive.
/